Full paper submission deadline:
April 5, 2021
April 16, 2021
April 30, 2021
| | |
| --- | --- |
| Registration Types | Registration Fee |
| A. Student Registration | 3000 RMB(450 USD) |
| B. Regular Registration | 3500 RMB(550 USD) |
| C. Extra Page Charge (parts exceeding 10 pages) | 300 RMB(50 USD) |
| D. Extra Paper Charge | 2600 RMB(400 USD) |
| Non-Author Registration without Paper Publication | |
| E. Participant Registration without Paper Publication | 3000 RMB (450 USD) |
B
ank Data:

A、 (人民币RMB账户)
户 名:南京沃德林科信息科技有限公司
开户行:中国农业银行股份有限公司南京晓山路支行
帐 号:10120301040008291


付款时请备注文章号!



B、 (美元US账户)
Name of the Bank: Agricultural Bank of China, Jiangsu Branch
Swift code: ABOCCNBJ100
Account Name: Nanjing Worldlink Information Technology Co., Ltd
Account Number: 10117014040004898
Address: A2-2002 No.216 Puliubei Road Jiangbei New District Nanjing Jiangsu China

C、支付宝账户(Alipay)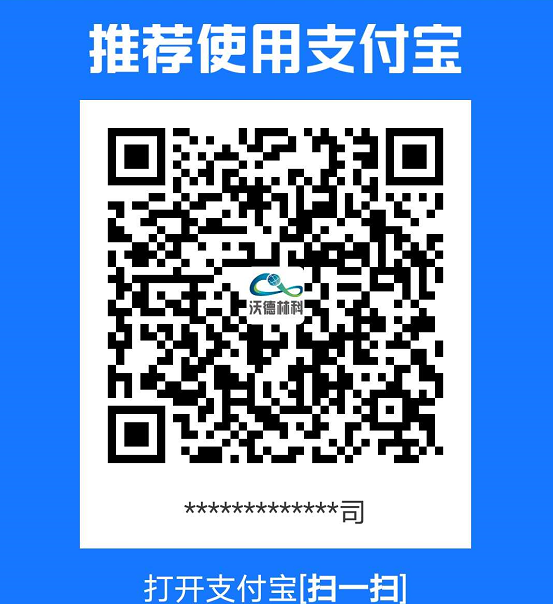 Note:
1) At least one author of each accepted paper must register using the author registration rate to ensure that the paper is included in the conference proceedings. The author registration must be received before and by the specified author registration deadline, May 21, 2021.
2) Payment of the registration fee covers the cost of proceedings publishing, custom taxes, conference venue and session rooms renting, coffee/tea breaks, conference banquet, and all lunches and dinners during the conference. Notice that the registration fee does not cover travelling fee and hotel fee.
3) Payments sent by bank transfer must be free of charges for CENet2021 and only the bank transfer is accepted for author registration.
4) If the same author has more than one paper accepted by conference, each paper is required for registration separately.
5) An Official Receipt for the payment will be passed to the registrant on the conference.